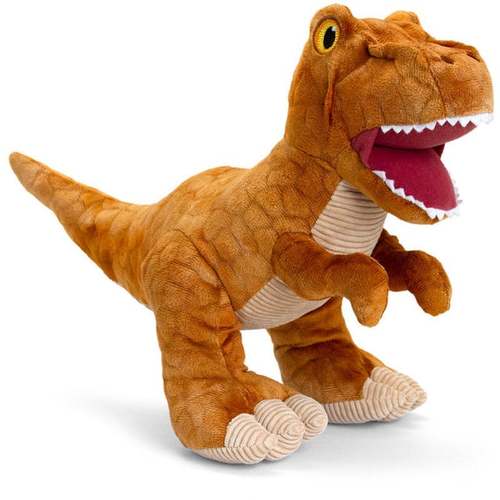 When dinosaurs roamed the earth, the T-Rex was the undisputed king of the land. His fearsome reputation was well-deserved with his 60 razor-sharp teeth - each one measuring a massive 20cm each! at 12 meters long, and with a head the length of an average person, this guy would have been terrifying! Our soft toy version is trying so hard to be as scary as his predecessors, but he's just not pulling it off. He looks so cute! He's soft and cuddly, and his pearly whites are made of felt. SO cute! In the real world, dinosaurs like the Stegosaurus, Triceratops and Brontosaurus would have avoided the Tyrannosaurus Rex like the plague, but here, they're all buddies and just love hanging out. Collect them all. Measures 30 from tail to nose. Made from 100% recycled plastics - it's the Keeleco eco-friendly way. 30 water bottles were used to make the fibre for this toy. Learn more about the T-Rex and other dinosaurs at the Natural History Museum.
Same day shipping .... see more 
Plus we gift wrap free of charge and include a hand written card with your personal message.
View your shopping basket or browse other items.
Other products you might be interested in