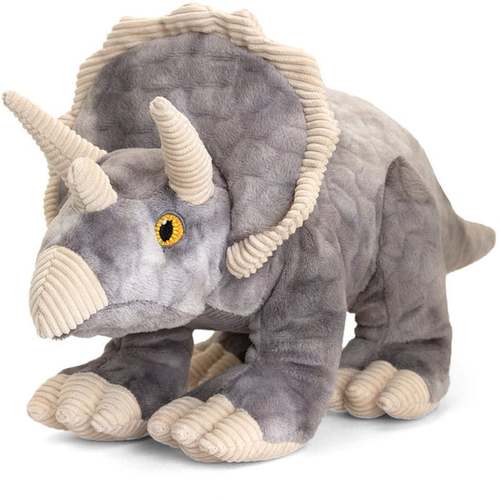 The Triceratops has always been my favourite dinosaur. It's so interesting and quirky with its metre-high frill and three horns. Did you know that the name Triceratops means "three-horned face"? Not very imaginative, but I like it. Our Triceratops is grey in colour, with cream coloured horns, feet and beak. He's soft, and he's sweet. His eyes are embroidered on, making him the ideal toy for children of all ages. In real life the Triceratops wasn't a herd animal, but these days he has made a herd of his own, including his three buddies, Brontosaurus, Tyrannosaurus Rex and Stegosaurus. Measures 28cm long. Part of our Keeleco eco-friendly soft toy range. Created using 100% recycled plastics! 30 recycled drink bottles were processed to create the fibre used to make this Triceratops.
Same day shipping .... see more 
Plus we gift wrap free of charge and include a hand written card with your personal message.
View your shopping basket or browse other items.
Other products you might be interested in