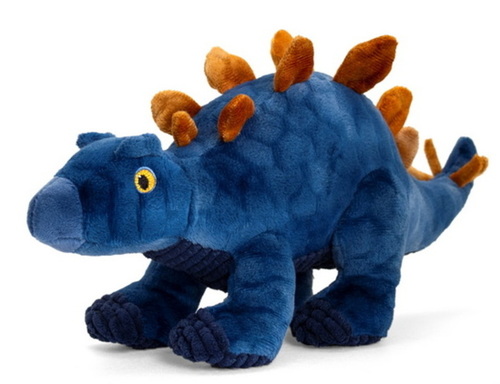 The Stegosaurus was a large, slow moving herbivore. It measured between 6 and 9 meters long and its brain was the size of a plum! Our gorgeous wee Stegosaurus is a fun blue colour with light brown spike plates on his back and tail. His feet and tummy have a ribbed texture, but the rest of him is nice and soft. He has embroidered eyes, meaning he's safe for children of all ages to play with. Stegosaurus mightn't have hung out with other dinosaurs in real life, but this guy just loves hanging out with his friends, Brontosaurus. Tyrannosaurus Rex and Triceratops. Measures 28.5cm long. Part of the Keeleco eco friendly soft toy range, our stegosaurus was made with 100% recycled plastics. A whopping 30 plastic water bottles were used to create the fibre he is made with. That's awesome!!!
MORE INFO
Same day shipping .... see more 
Plus we gift wrap free of charge and include a hand written card with your personal message.