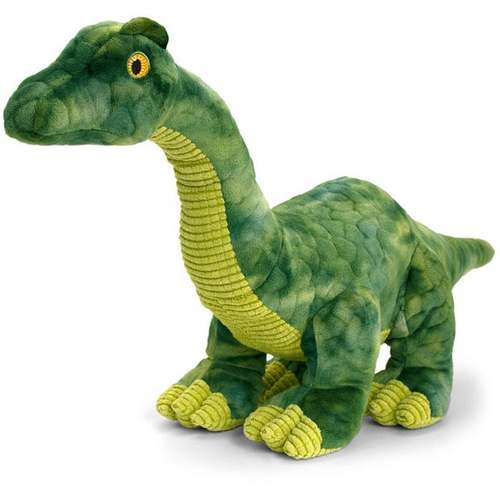 The Brontosaurus dinosaur is one of the largest creatures ever to have walked the earth, but it had one of the smallest brains of all the dinosaurs. Our Brontosaurus is neither large, nor not very smart. He's actually very lovely. With his long neck and cute little face, he's one of our favourite soft toy dinosaurs. He has embroidered eyes, which makes him baby safe. He is soft and plush with ribbed fabric on his feet and underbelly. Our Brontosaurus is a social fellow, and loves hanging out with his mates, Stegosaurus, Triceratops, and Tyrannosaurus Rex. Unlike the real Brontosaurus which measured 21-23 meters long, our guy measures a much more manageable 34cm from nose to tail. Brontosaurus is part of Keeleco's eco-friendly range. Made from 100% recycled materials. Did you know that approximately 30 discarded water bottles were broken down and spun into fibre to make this guy? Now that's cool!
Same day shipping .... see more 
Plus we gift wrap free of charge and include a hand written card with your personal message.
View your shopping basket or browse other items.
Other products you might be interested in