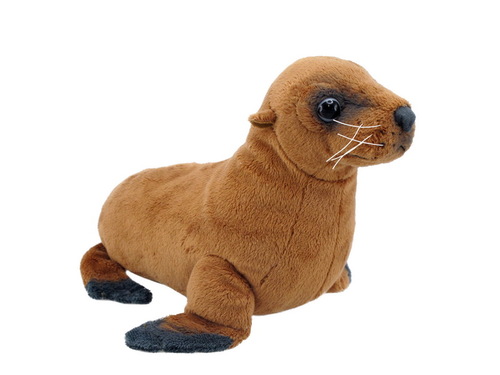 The New Zealand Sea Lion, or Whakahau. is often referred to as the puppy of the sea. So playful - so cute - so naughty! This soft toy is soft and cute with brown fur, grey flippers and nose. It has big brown baby seal eyes and wiry whiskers. Press its belly and it will delight you with realistic seal noises. Best thing of all is that this wee toy smells a whole lot better than a real seal!
Measures 23cm long.
The New Zealand Zeal Lion - Whakahau is the rarest sea lion in the world, numbering less than 10,000. They are found only around New Zealand. Most of them live around the Auckland and Campbell Islands far to the south of New Zealand. However, they once lived on both our North and South Islands but hunting by Maori, and later by European sealers drove them from our mainland shores. Then in 1993 something wonderful happened. A lone female swam all the way from the subantarctic Auckland Islands back to the mainland and gave birth to her pup on a farm near the fishing village of Taieri
Same day shipping .... see more 
Plus we gift wrap free of charge and include a hand written card with your personal message.
View your shopping basket or browse other items.
Other products you might be interested in