Charlie Bears Garden Party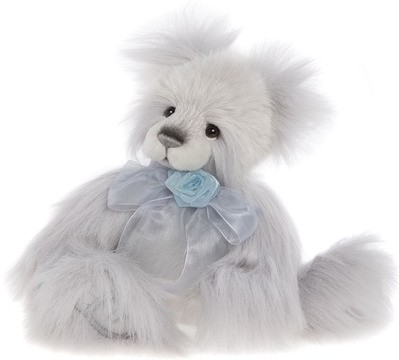 Garden Party by Charlie Bears.

Garden Party is a kind-faced little bear. Her soft grey fur is super-soft, with a different tone on her tummy to the rest of her body. Her neck, shoulders and hips are all jointed, allowing you to create different poses with her. A rose and a bow rest under her chin.

Size - 40cm lying down, 29cm sitting.

Lovingly handmade by the talented team at Charlie Bears.
MORE INFO
Same day shipping .... see more 
Plus we gift wrap free of charge and include a hand written card with your personal message.
Features
About Charlie Bears
Charlie Bears are a fabulous range of collectable bears and characters designed by Charlie at The Bearhouse in Cornwall, U.K.. Charlie occasionally collaborates with other specialty bear artists to create different collections.
All Charlie Bears are limited in production, and certain collections have very limited numbers making them a very special collector's item.
Every bear has been lovingly handmade using top quality matierials and has their own unique characteristics. Charlie Bears are known as the bears with personalities.
Founded by Charlotte and William Morris in late 2005, Charlie Bears began its journey on 1st February 2006 with the launch of its first collection of just 12 bears. The collection has grown to 2500 bears and continues to grow in popularity.