Morepork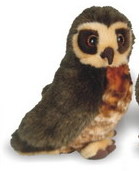 Morepork (Ruru)

Our Ruru comes with real sound, simply push his wing to activate.
His head swivels around too.

Size: 19 cm standing

Ruru are small, dark brown native owl with large typical owl eyes.
They are nocturnal, eating a variety of insects and small animals such as rats and mice.

They have a variety of calls but they derive their common name from the iconic call that sounds like "morepork".

Seldom seen, they are hard to spot because the are nocturnal and live in our forested areas and have a very eerily silent flight.
Same day shipping .... see more 
Plus we gift wrap free of charge and include a hand written card with your personal message.
View your shopping basket or browse other items.
Other products you might be interested in