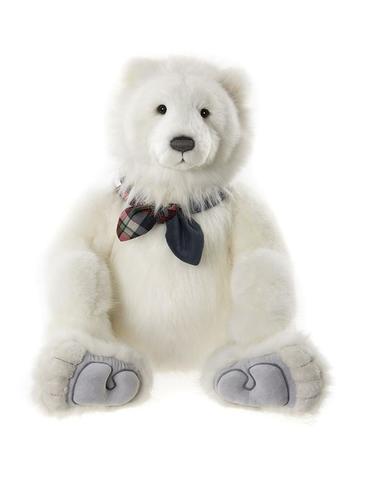 Auberon from Charlie Bears.

Over the years we've seen some polar bears come and go through Bears Online. Are we experts on the King of the North? Lots of people say so, but we don't like to brag. Having said that, this is, by far, the most beautiful polar bear we've ever hosted. Auberon is covered in soft snowy white fur and has thick padded paws. He wears a smart, multi-coloured scarf/bow. His face has really captured the look of the lonely wise old polar bear. I could be wrong, but if you look deep into his eyes for long enough, you can almost feel the arctic breeze! We know it's rude to talk about weight, but it's definitely worth mentioning that Auberon is a heavy lad.

Auberon is from the Charlie Bears 2021 Collection.

Designed by Isabelle Lee

Co-designer Charlotte Morris

Material - Plush

Jointed

Hand wash cool, with care.

Size: 47cm sitting and 66 lying down.

Suitable for 3 years +
Please note we have been informed by Charlie Bears that this bear will be having a very minor accessory change due to a fabric supply issue for the original material. The new accessory has been approved by Charlie and is very complimentary as well as being almost identical to the original accessory.
About Charlie Bears
Charlie Bears are a fabulous range of collectable bears and characters designed by Charlie at The Bearhouse in Cornwall, U.K.. Charlie occasionally collaborates with other specialty bear artists to create different collections.
All Charlie Bears are limited in production, and certain collections have very limited numbers making them a very special collector's item.
Every bear has been lovingly handmade using top quality matierials and has their own unique characteristics. Charlie Bears are known as the bears with personalities.
Founded by Charlotte and William Morris in late 2005, Charlie Bears began its journey on 1st February 2006 with the launch of its first collection of just 12 bears. The collection has grown to 2500 bears and continues to grow in popularity.
MORE INFO
Same day shipping .... see more 
Plus we gift wrap free of charge and include a hand written card with your personal message.